Featuring: Steve Lash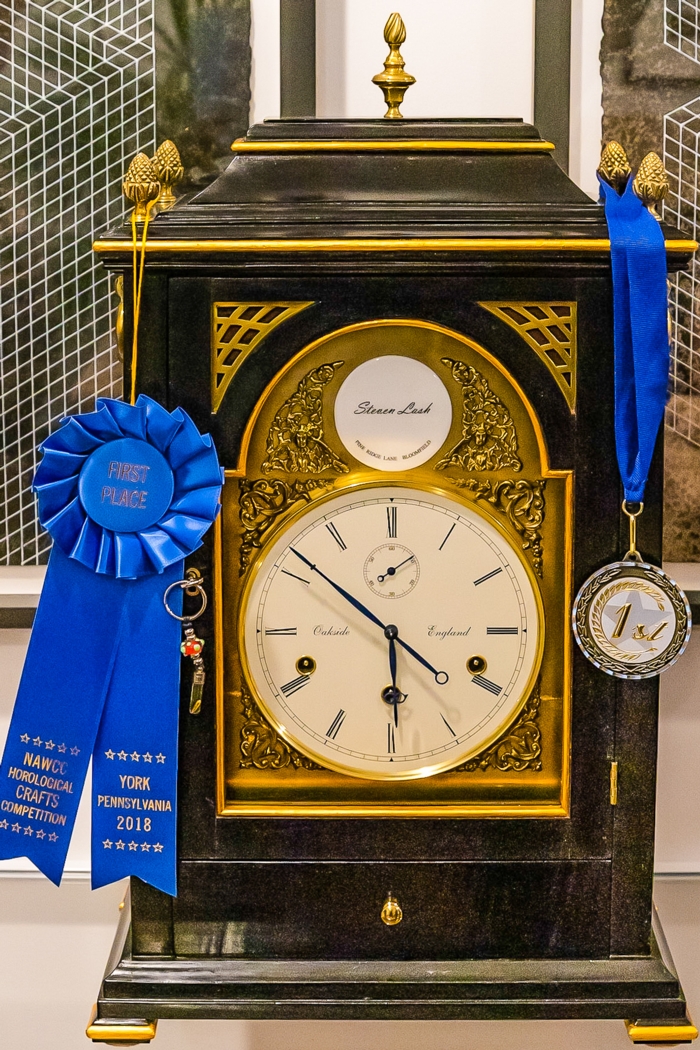 Steve remembers our class motto by Marcus Aurelius, as he takes 1st place in national clock building competition:
"If a thing is humanly possible, consider it within your reach"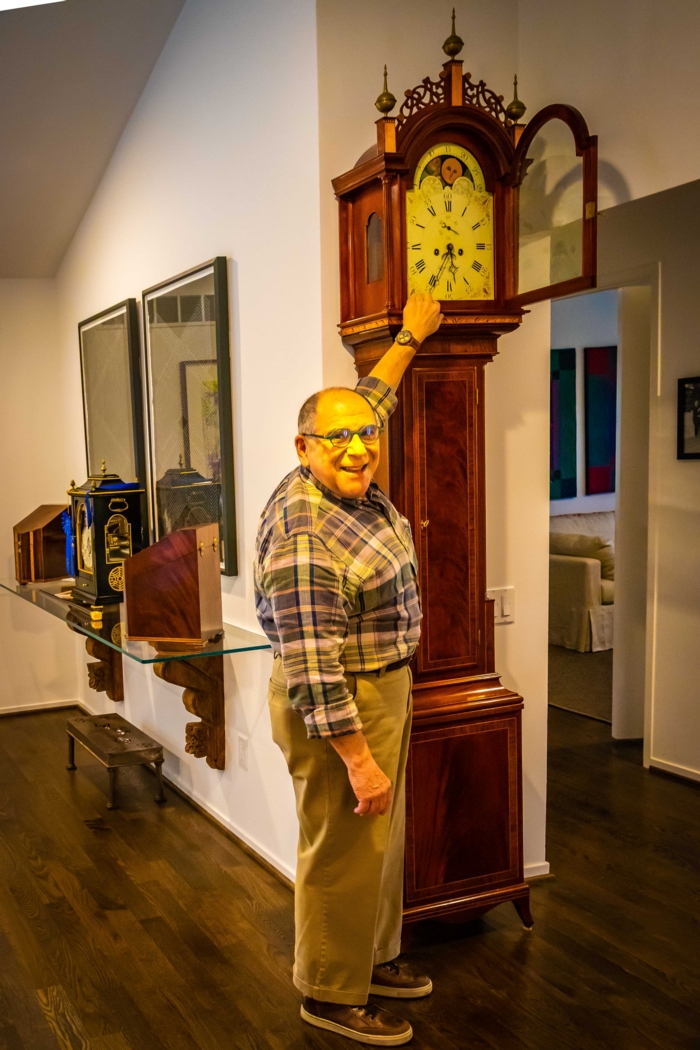 Steve built this 2000 national winner Tall Case Clock replicating a 1790's Simon Willard piece.
You know how it goes. You see or hear from each other over time at places or events and remember how wonderful friendships and times together were early on. At evenings end, you say: "Let's get together."
With warm smiles of pure joy Steve and Carol Lash invited Dorothy and me (Arnie Collens) into their home before going out to dinner. Thus resuming our friendship that goes back to Mumford and Camp Tamarack days. With passion and enthusiasm that's contagious, Steve and Carol showed us their home. It's filled with Steve's handiwork, warm and breathtaking. As an Orthodontist, Steve uses precise thinking with engineering and keen hand-eye coordination skills. He uses those same skills in his avocation, furniture making, and his home is filled with his labors of love. For over 50 plus years he has been reproducing eighteenth and early nineteenth century period furniture.
How did this love for woodworking start? Early in life, at the Royal and Mercury movie theaters, Steve Lash and his younger brother Mickey took in every cowboy and Indians movie they could. With a gift of a Dremel #1 scroll saw from his parents, Steve carved figures he saw on the theatre screen: toy soldiers and guns that shot rubber bands. Playing together, the two brothers protected their neighborhood from the evils of the screen. Public records show there may have been suspicious attacks near where they lived, but there was never a reported successful invasion on or between 6- and 7-mile roads, Sorrento to Littlefield, where the boys patrolled in the early 50s. At Schulze elementary school, from the 5thto the 8thgrade shop class, Mr. Cooney's ability to transfer woodworking skills opened a whole new world for Steve. Learning to use hand tools, especially planes, made shop class and Mr. Cooney favorites for life.
Today, it's evident Steve is among the best anywhere at his craft. He enjoys teaching and sharing knowledge. He's excited to relate the history and the skill side and detail of building each piece he's created. And his stories are evidence of his successful ability to act in leadership roles, as a guest speaker and in publishing wonderful documented articles. Steve is co-founder and past president of the Society of American Period Furniture Makers. He lectures frequently on the design and construction of his period pieces, and his work has been featured in numerous journals including Fine Woodworking Magazine, Fine Woodworking's Design Books Three and Four, Woodwork Magazine, Home Furniture, The Bulletin of the National Association of Watch and Clock Collectors, and American Period Furniture.
In 2006, three of Steve's pieces were selected for exhibition in Contemporary Classics, Selections from the Society of American Period Furniture Makers, at the Telfair Museum of Art, Savannah, Georgia. His reproduction of Benjamin Franklin's glass armonica[spelled correctly] was played at the 2011 Glass Music Festival that was held at Williamsburg, and at the March, 2012, opening of Traditions of Craftexhibition at the Connecticut Historical Society. In 2000, Steve won the National Watch and Clock Collector's Craftsmanship Award, and in 2010 he was awarded the SAPFM's Cartouche Award for lifetime achievement.
A sparkle comes to his eyes as he relates his recent accomplishments. The Franklin glass armonica, now has a new home. It is watched over by the National Park Service. Steve donated it to be enjoyed by the public and will forever reside at the Benjamin Franklin Museum that is part of Independence Park in Philadelphia. This past summer Steve took the blue ribbon for Wood Case Clocks at The National Association of Watch and Clock Collectors Crafts Competition.
Locally, Steve, remains active as a treasured member and past president of the Associates of the American Wing at the Detroit Institute of Arts. He practices orthodontics with his daughter, Dr. Rebecca Rubin, at Lash Rubin Orthodontics in their West Bloomfield, Michigan office. He is an Adjunct Associate Clinical Professor of Orthodontics at the University of Michigan, where he teaches Craniofacial Orthodontics. At home, Steve and Carol live among a lifetime of effort building the period furniture that beautifies their home. They appreciate the detail and the immense amount of thought and time invested in each treasure. Some took years to build. Getting invited into the room where it happens, the workshop, is both a compliment and treat. Filled with pictures of family, friends, events and his finished pieces, the room reminds Steve to appreciate who he is and to remember those who played a part in how he got where his life has taken him.
Today, 65 years later Steve still has the zest for the smells of the shop, the beauty of wood, honing his skills, and the love to create. Steve looks back with pride pointing out on his workshop wall a framed box that holds the toy soldiers he carved as a boy. They are as precious to him as his finest furniture pieces and the life he's built around his craft with family and friends. By the way, there is a continuing project on his workbench. Still remembering out class motto, it'll be done in a year or so.
Steve Lash furniture can be seen at the Society of American Period Furniture's website.
Go to: sapfm.org, Click gallery on the top line, Search and find Steve Lash to enjoy his work.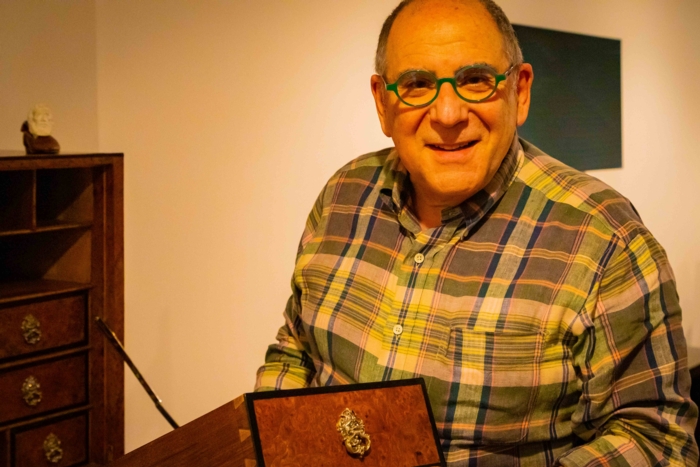 The drawer pulls shown on the drawer Steve is holding are part of a desk he crafted. Does it look like he's having fun? He is!!