Counter: Join us in 8 and 9 days for our Reunion!
New - Scrool down to read:
1.

Last Minute Questions about Sign Up? Just reply to "Contact Us" located in the blue header line above
Everyone attending any event will be contacted October 1st with a full information update.
Final numbers are in - have you made your plans?
2.

Henry Gornbein - Still making a difference!
Registration Closed - Question - Tap "Contact Us" above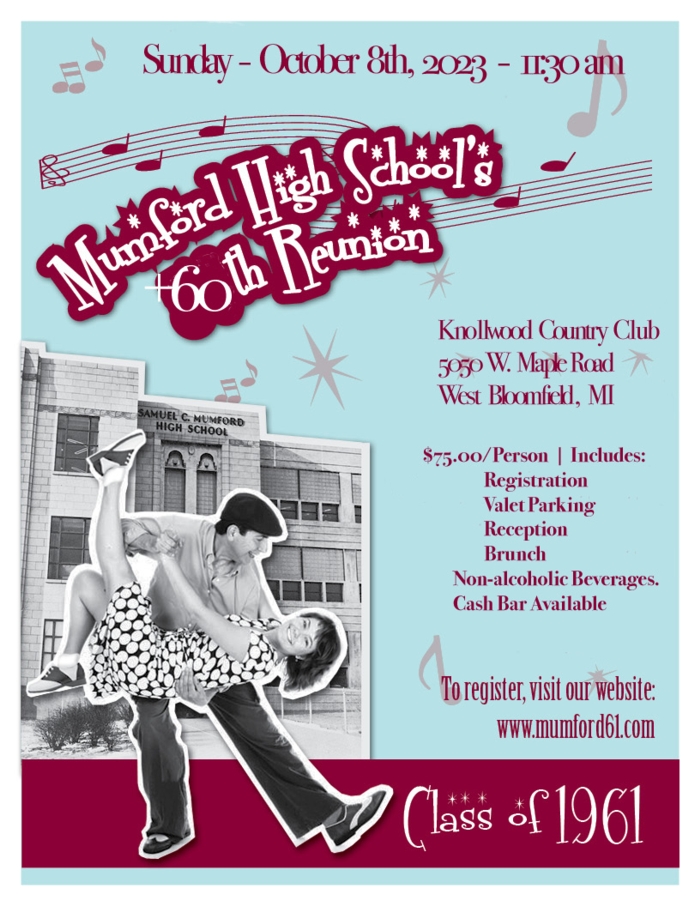 October 7th Bus Tour & Saturday night get together
_______________________________________________________________________
2. What's New With Our Henry Gornbein?
Remember attending Mumford Band and Orchestra Concerts and the feeling of pride
you shared when you saw your friend performing on stage?
Fast forward to today when you see and realize that band members like Henry
are still are on stage - Making better lives for all of us!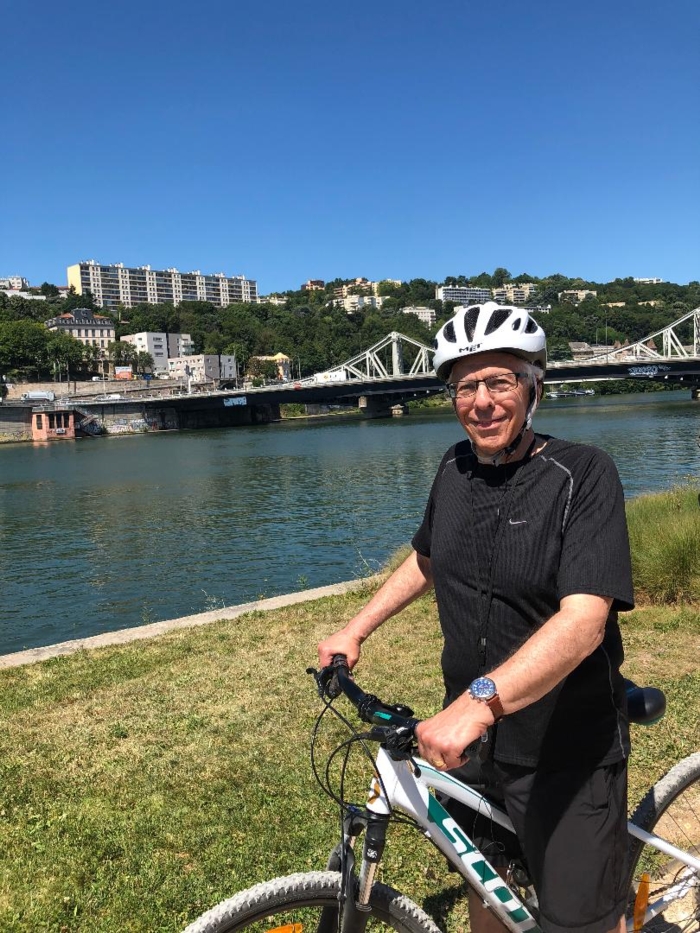 Henry Biking the Rhône River - Lyon France
Henry Gornbein was the first chair clarinet in our Mumford Band and Orchestra. After a successful career in family law his sensitivities continue to find ways to remain first chair and help others. See how Henry is helping our demographic by reading this recent article.
From Michigan Seniors Guide : Welcome to Gracefully Greying
Sometimes, we have a choice about how we are aging. Other times, there is a swift event that upends everything we thought about retirement and growing older. Enter, the Gracefully Greying community filled with information for those 55+ and/or taking care of loved ones.
Gracefully Greying tackles subjects that reach this demographic, including medical needs, financial, housing, estate, and long-term planning. There is a wealth of information for and about seniors from seeing a new doctor, preparing for surgery, setting up durable powers of attorney, job transitions, and selecting caregivers, to how to have difficult conversations with parents. There are interviews about heavy subjects such as gray divorces and grandparents' rights, computer scams targeting seniors, and avoiding becoming a victim of scams in general. There is also content for the good times including a cooking series, traveling tips for seniors, volunteering, and other leisure activities.
Subject matter experts lend their voices and resources to the community. Gracefully Greying has interviewed everyone from State Supreme Court Justices to Hospice Directors, and Nutritionists. Interviews livestream every Tuesday morning at 9:15 AM (EST) on Facebook and LinkedIn. They are also available on the gracefullygreying.com website and YouTube, which are updated multiple times a week to bring you the latest information. Being part of the Gracefully Greying community means more than just visiting a traditional website. There are also checklists, classes, articles, additional interviews, and a monthly newsletter.
In 2022 Gracefully Greying began to expand with dedicated series on topics including:
Health Related Interviews by Lila Lazarus, an award-winning journalist. Lila lives and breathes the message of health and wellness, striving to educate and inspire the community to live healthier lives. Lila produces a series of videos each year for Gracefully Greying, Lila's Good Health, which also appears on Blue Cross Blue Shield of Michigan's websites.
Cooking with Mindy: Delicious Meals for One or Two, is set to debut shortly. Mindy helps with in-home menu planning for families and empty-nesters and is also a certified Life Coach. Mindy joins our team with this cooking series focused on healthy and delicious meal prep for one or two people.
Gracefully Greying now has a content sharing agreement with Blue Cross Blue Shield of Michigan. The platforms provide each other with content from Gracefully Greying and pull content from MI Blues Perspectives and A Healthier Michigan on the company's website.
Gracefully Greying has also produced Listing Life Fully, a comprehensive workbook to create a smooth transition for your loved ones when the unexpected happens. Users can prepare, record, and organize important documents all in one place for their future reference and for designated people helping them. This is available in hard-copy or as a downloadable PDF from the website shop page.
Gracefully Greying was started by co-founders, Henry Gornbein and Laurie Blume. Gornbein has practiced family law in the Metro Detroit area for over 50 years. Gornbein is of counsel at Lipson Neilson PC. Blume is the owner of Blume Design, a marketing, strategy, and design firm. She has worked with clients on comprehensive marketing campaigns and solutions. Together, they have developed a well-rounded platform to create open and meaningful discussions and provide resources to handle daily life.
Gracefully Greying is free to the public, thanks to our supporters and advertisers and directory members. Please join us by signing up for our newsletter at https://bit.ly/gg-newsletter23.
Enjoy all that the Gracefully Greying community has to offer - share it with your friends and loved ones. If there are topics, stories, or discussions that would interest you, please contact us at info@gracefullygreying. We'd love to hear from you!
Let Henry know your thoughts by private message on our website or
Tap and enter the gracefully grey website https://gracefullygreying.com/
********************************************
Other Mumford Class of "61" Home Page content changes and additions:
1. In Memory - Gerald Jerry Share
2. In Memory - Sandra Sandi Stearn Begel
3. In Memory - Lawrence Grosberg
4. Remembering our Mumford Website co-founder Ben Craine
5. Mumford Memories
1. Gerald Arthur ( Jerry ) Share of Overland Park, KS and recently of Farmington Hills , MI passed on July 13, 2023.
To add your thoughts and memories of Jerry go to his page. Tap this live link: "In Memory" to do so.
May his memory be a blessing and may he rest in peace.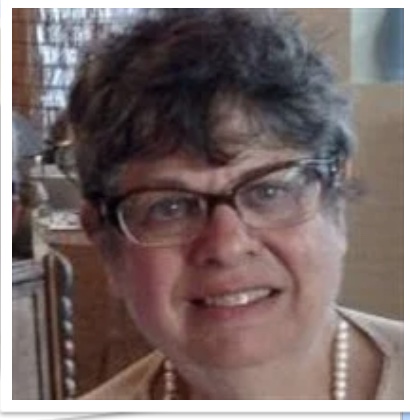 2. Sandra Sandi Stearn Begel of Oak Park, MI passed on April 3, 2023.
To add your thoughts and memories of Sandi go to her page. Tap this live link: "In Memory" to do so.
May her memory be a blessing and may she rest in peace.
3. Professor Lawrence Grosberg of New York, New York passed on March 7, 2023.
To add your thoughts and memories of Larry go to his page. Tap this live link: "In Memory" to do so.
May his memory be a blessing and may he rest in peace.
4.

Remembering Our Mumford Website co-administrator, Benjamin (Ben) H. Craine
of
Bloomfield Township, Michigan,
passed away after sunset on June 26, 2022.
As Co- editor, this website reflects his true goodness, caring nature and inclusive values.
As a true mensch he made your heart smile,
knew the right thing to do and as a decision maker
artfully shared his thinking.
Ben's page -
Tap this live link:
"In Memory"
FYI: By tapping any link "In Memory" above, you will be taken to our classmate's page to add your thoughts - to remember.
************************
***************************************************
Mumford Memories - RESCUED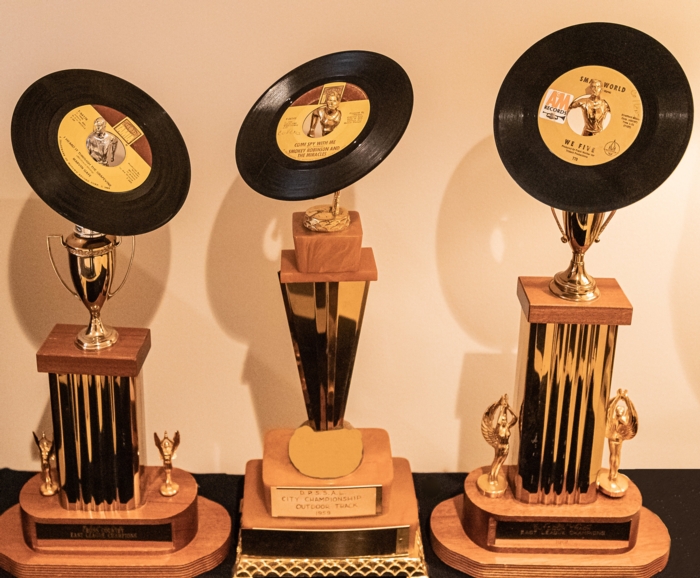 Trophiy: Mumford Track - City Champions
*******************************************************************
Would you like to select how often, when, what, and from whom you want to hear from class members or the class? Interested in following what classmates are doing?
Set your Personal Preference settings on our website:
Here's How:
Using "Notify Me": When and How do you want to be notified about changes to our Website and Class News?
1. Log in to our Mumford61.com website. Look at the very top right corner of the page.
2. In the purple headband click on the person icon

3. Select Notify Me:
Notify Me offers a convenient way of keeping up with what's happening on our site by asking you how, what and from who you wish to keep in contact and receivie personal or class email.
4. On the Notify Me page, you select from a variety of options. Selecting in the "Immediate" column generates email as it is sent to you. You may decide to select the setting to receive email "Once Daily;" to reduce the number of emails you receive on any given day. Also, you may selectively decide to "Never" receive certain classes or types of email.
You decide when you want to hear from the class and can select from our class list only those you wish to hear from.
5. The choice is yours. Take the time to look now, fill in each question to best meet your needs.
Hint: Add getting notices from "Class Chat: Talk & Share" to join the conversation and let us Mustangs in on what you're thinking. Have you tried it?
******************************************
---
Some Facts about our Website . . . We Communicate!!
We opened the site October 1, 2010
We've enjoyed over 139,000 classmate visits to our site since inception. Only classmates may use our site
We have never had a day without a classmate visit
We've exchanged thousands of in site messages and countless off site communications
************************************************************
Picture Section:
Scroll down the page: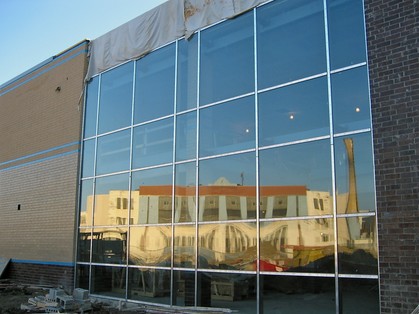 Now Gone - Our Mumford remains a reflection within the New Building by: A Collens
What does it look like Where you Live?
Send pictures, we'll credit you and put them here:
Downtown Detroit & Riverwalk Images
by: Arnie Collens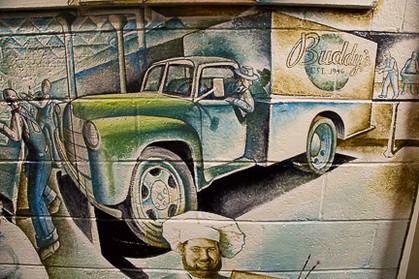 Good any time of year: the wall at Buddy's Conant & 6 Mile, Detroit
Have a picture? Post in Class Chat: Talk and Share What Summer looks like where you live.
***********************************************
Mumford High School Alumni Association
Alumni Announcement Line
Visit our MUMFORD TODAY Photo Gallery to see images of the demolition on 7/24/2012 [Out with the Old] and some photos of the new building [In with the New].
___________________________
Note: If you are a class member who has not yet joined the website, find your name in the list on the CLASSMATE PROFILES page in the left grey column, click it and register.
Send Your Pictures to our PHOTO SECTION (<-- click to go to photos).
***********************************************
To update your PROFILE information, please click on CLASSMATE PROFILES, here or in the gray column to the left. Then, find your name in the list of classmates, and click on your name. During the update, you will have the opportunity to determine how much of your information you want available to the public [anyone who visits the site] and how much you want restricted to class members who are logged in. Some thoughts with regards to . . .
Security
When adding your PROFILE information be sure to update the following fields:
1. PROFILE VISIBILITY: We URGE you to CHECK this box. Leaving this box unchecked will allow ALL persons (members and non-members) to see portions of your profile. Checking this box will secure your data so that ONLY members can view this.
2. CONTACT DETAILS: This box should be UNCHECKED if you do not want your address and phone numbers visible on this site.
Arnie Collens & Ben Craine of Blessed Memory
Web design