1. In Memory
2. Classmates provide information for NBC's Birwood Wall Article.
3. Mumford Memories Rescued - Covid Clean-up: What did you find?
3a. NEW - Scroll down to article: Mumford Phys Ed."T" returns to the movies
4: "Notify Me" - How to set your personal preferences on our Mumford61.com website.
5. Some Facts about our website.
6. Picture Section
7. All Class Mumford Alumni Association contact information
8. Join the website - it's never to late.
9. About site Security
*******************************************************
In Memory
We are sad to report that our friend and classmate Judy Selitsky (Samson) of Novi, MI passed away January 16, 2022. You may add your thoughts and memories of Judy on her page in our class "In Memory" section. May her memory be a blessing and may she rest in peace.
FYI: By tapping the "In Memory" link above, you will be taken to Judy's page.
*******************************************************
Classmates provided memories / sources by responding to this request:
Life in the neighborhood: Can you help?
A reporter for NBC News Digital wishes to interview people who, in the 1940s or 50s, lived in our Mumford northwest Detroit neighborhood north of Pembroke, south of 8 Mile and between Littlefield and Pinehurst. The reporter is researching the history of life in this neighborhood and looking to interview people who lived there, even if they don't remember much about the area.
If you or someone you know lived there, please contact Erin Einhorn at:
Erin.Einhorn@NBCUNI.com
313-804-5212
Link to Read the NBC News and Bridge Detroit Birwood Wall Article:
Log in and Go to: Class Chat: Talk & Share to read or comment on the Article
***************************************************
Mumford Memories - RESCUED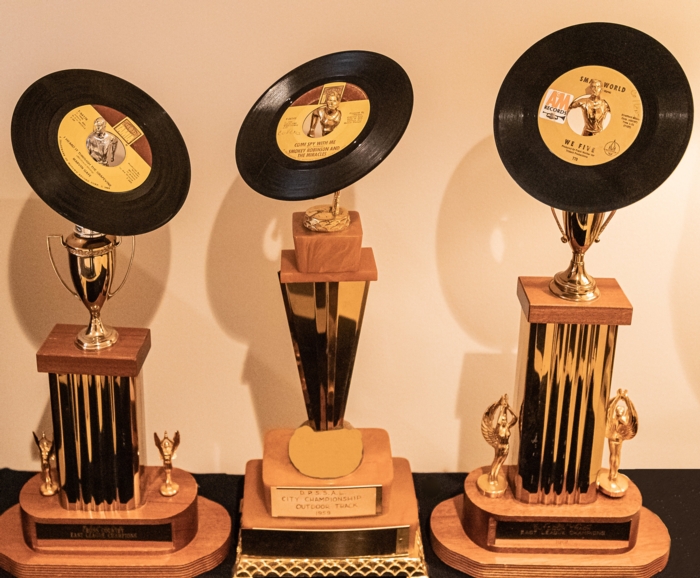 Trophiy: Mumford Track City Champion 1959
_______________
Mumford Phys Ed. "T" returns to the movies
(Tap Here for article)
_________________________________
Covid Clean-up: What did you find?
As we start to exercise a semblance of normalcy we ask you what changed in your life over the last year and a half. We ask you to enter the "Class Chat: Talk and Share" part of our website and fill us in on what you've done. I'll share an example here on the home page:
Early on my wife created a list of things we needed to do to unload the house of its 26 years accumulation. I learned very quickly that if I completed a task, like magic, another chore appeared on my list in its place. To avoid the new responsibility I began to look for hiding places in the confines of my own home - I wasn't very successful. Even changing my appearance by losing 25 pounds didn't work. So I finally settled in and cheerfully completed each assignment.
What fun was had discovering, remembering and sharing finds both large and small.
Passing my elementary school report cards and looking through Post Olympian yearbooks took me straight into my Mumford collection. I don't think I'll ever need the notes from Mr. McNair's Drivers training class or from Mr. Korczynski, Gornbein or Saporsky for that matter.
Papers are gone. I built a case for saving my purple senior ribbon, my maroon and blue tassel and of course my senior pin (pictured in the upper left corner of our website). It's understood that signed senior pictures with message written by friends, some I still see and think about, are not trash in my house. Yes, the wall tile I salvaged from the entrance to the Mumford swimming pool is a keeper.
The Grand Prize - The Trophies Story:
When we walked the halls of our Mumford at our reunion in 2011 several of us took the time to look through the class composite pictures framed on a rack outside of the main office. I also photographed the display case thinking it would be a remembrance of the trophies won during our time in school. Link to Mumford Pictures
Before taking down our Mumford it was decided that some of the tokens/trophies that represented previous group accomplishment wouldn't be moved to the new school. They'd be sold as a fundraiser or given away.
Bob Dovitz called to say he'd meet me at school to see what they were selling. We got there in time to rescue trophies from teams that I belonged to, teams that helped form who I am today. I saw more than the trophies - I saw Kenny Burnley, Homer Heard and David Shevitz winning 100 yard dashes. I saw quarter miler Kenny Jackson and Louis Williams and distance runners Stan Ruby, Walter Foreman with field event participant Larry Okrent and others making a difference. I saw Coach Mullin encouraging and building success one student athlete at a time. I saw the cheering supportive Mumford crowd on gasme day. And Yes, I saw myself owning a piece of our history, I proudly took home the 1959 City Track Championship trophy, 1960's East League Cross-country championship trophy and the 1961 East League Track Championship trophy. All were cloaked in the original dust they'd collected in our Mumford over 60 years. Not everything is perfect. Today, as a compromise that allows the trophies to remain in my home, as seen pictured above, the dust has been removed. Yes, I'm waiting for my next project :) What did you find?
*******************************************************************
Would you like to select how often, when, what, and from whom you want to hear from class members or the class? Interested in following what classmates are doing?
Set your Personal Preference settings on our website:
Here's How:
Using "Notify Me": When and How do you want to be notified about changes to our Website and Class News?
1. Log in to our Mumford61.com website. Look at the very top right corner of the page.
2. In the purple headband click on the person icon

3. Select Notify Me:
Notify Me offers a convenient way of keeping up with what's happening on our site by asking you how, what and from who you wish to keep in contact and receivie personal or class email.
4. On the Notify Me page, you select from a variety of options. Selecting in the "Immediate" column generates email as it is sent to you. You may decide to select the setting to receive email "Once Daily;" to reduce the number of emails you receive on any given day. Also, you may selectively decide to "Never" receive certain classes or types of email.
You decide when you want to hear from the class and can select from our class list only those you wish to hear from.
5. The choice is yours. Take the time to look now, fill in each question to best meet your needs.
Hint: Add getting notices from "Class Chat: Talk & Share" to join the conversation and let us Mustangs in on what you're thinking. Have you tried it?
******************************************